January Chapter Meeting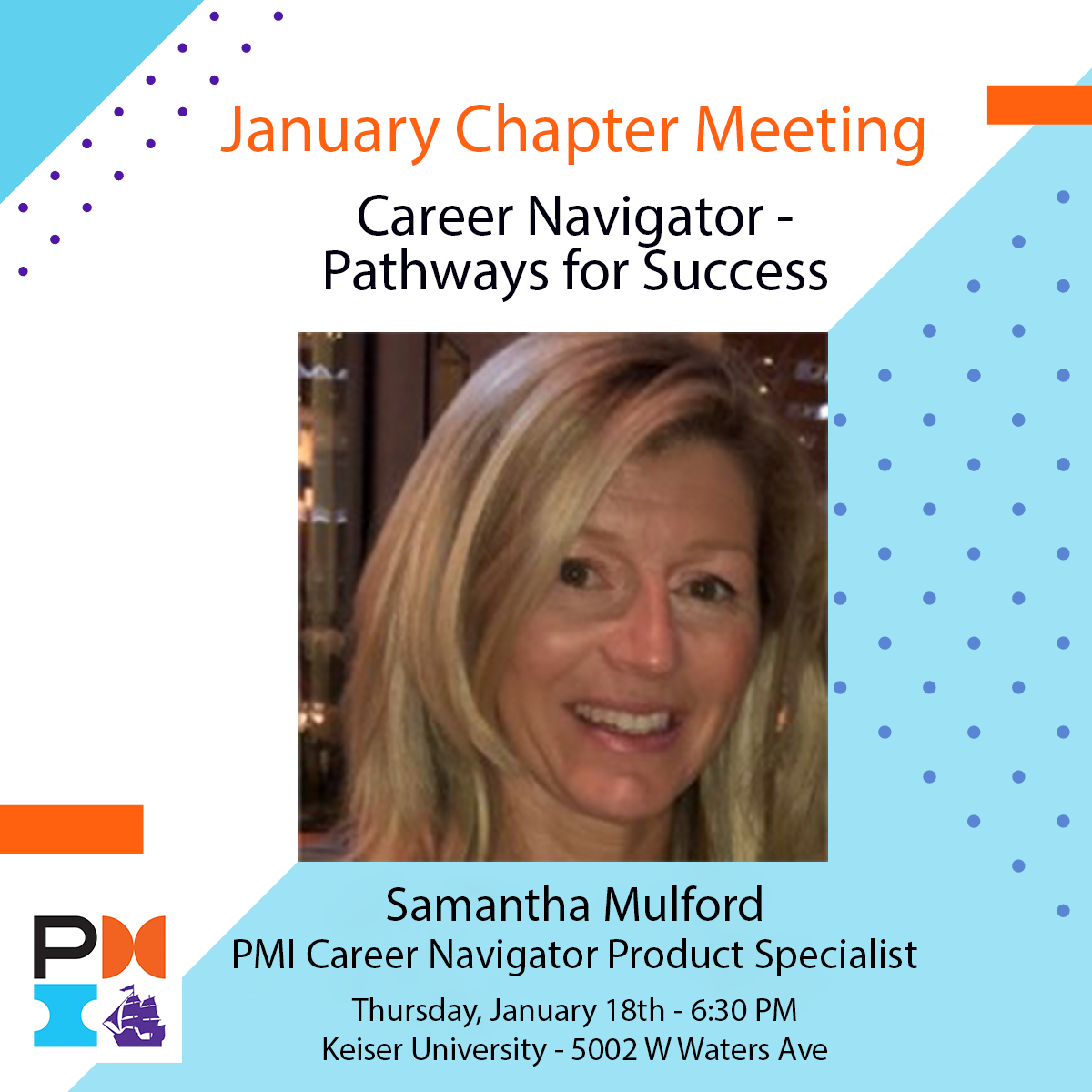 As busy professionals, you need a variety of choices to build your own learning paths and career journey. Just like there is no "one-size-fits-all" prescription for how to manage projects and programs. Career journeys are not linear or predictable, but evolve as individuals acquire new skills, knowledge and build upon their professional experience. You chart your own path at your desired pace. Take the self-assessment and define your personalized learning journey for career development and continued certification success!
Objectives:
*Identify career goals and learning pathways through self-assessment and goal setting.
*Evaluate certification and skills-based professional development opportunities.
*Maintain and renew certification goals with an enhanced PDU recommendation feature.
*Compare your skills and professional development goals with peers to help with career transition.
Who:
For Members and Non-Members seeking professional development opportunities for career transition, entry-level project professionals and students looking to achieve their career aspirations, upskilling mid-career professionals and transitioning senior project professionals.
Value:
Career Navigator recommends specific career progression goals and PDU opportunities through guided learning pathways for certification and skills development.
1. Introduction to Career Navigator Platform How to access and navigate the Career Navigator assessment and generate personal goals.
2. Goals/Milestones/Tasks Review of features recommended to complete tasks and milestones to achieve and maintain career and professional development goals.
3. Maintain your Certification Identify opportunities to maintain your current PMI certifications with the new PDU recommendation feature.
4. Career Comparison Demonstrate how to transition career paths and achieve goals using the peer benchmarking skills comparison feature.
The session is facilitated by Samantha Mulford, the PMI Career Navigator Product Specialist. She has designed and developed AHPP, CD-Practitioner, and CD-Business Architect skills-based micro-credentials for PMI. She holds a dual master's degree in Education and Instructional Technology and is passionate about developing and sharing learning experiences with PMI members. Samantha is an innovative global security education mgmt. consultant and professional development trainer for quality eLearning programs and curriculum development. https://www.linkedin.com/in/mzbrit.
Register for this event